This article was originally published on dare2go.
We always want to visit World Heritage sites , and our road trip through Morocco was no exception. Archaeology, ancient ruins, historic towns and villages, and colonial influence all feature there – as they do in many of the world's recognised cultural heritage sites. Morocco has 9 World Heritage sites listed by UNESCO.
World Heritage Sites of Morocco we Visited
During our overland roadtrip in Morocco , we didn't manage to visit all of them, but we came past 6 of the UNESCO listed sites. Maybe next time.
1. Portuguese City of Mazagan (El Jadida)
The 16th century fortified Portuguese city of Mazagan is now part of El Jadida, a coastal city just south of Casablanca. Unusually, we were not drawn to visit because of its world heritage status, but because we had read about it in our Morocco guide book . We were fascinated by an old Citerne Portugaise (Portuguese Cistern) inside the city. It had originally been built as an arsenal, then utilised as an armoury, before being put to use as a cistern – to store water. The full-page photo immediately put it on our must-see list of what to do in Morocco!
We had some difficulty pinpointing the exact location of the cistern. We knew it was inside ramparts, but not where. So, we parked outside the walls, entered the closest gate, and asked the first person who spoke to us. You don't have to wait long for someone to speak to you in Morocco, especially if you are at a tourist site, and you look like a tourist. A local shop owner, who spoke good English, asked us to look in his shop. We politely declined and said we were looking for the Portuguese Cistern. He happily directed us to it, knowing we would pass by again on our way out. It was located, quite conveniently, just down the street.
The Citerne Portugaise was a worthy sight for our first historical site in Morocco. The cistern is every bit as impressive as the photo had promised. Barely lit, but for a hole in the roof, the reflections of the supporting columns in the water give it a mystical feeling. UNESCO describes it as, "an outstanding example of this type of structure", and we agree – not that we'd seen any others at that time.
Coming out into the daylight was a bit of an anti-climax, but we walked on and explored the old walled city. From the colourful port to the narrow lanes to the views from the ramparts, El Jadida was a very pleasant introduction to the important historical sites in store for us in Morocco.
2. Medina of Marrakesh
With almost 1000 years of continuous history, the Medina of Marrakesh is worthy of its recognition by UNESCO, as a place of Outstanding Universal Value. The Medina is surrounded by its original ramparts, which also demarcate the World Heritage site. Although everything inside these walls is part of the listing, there are some truly standout places. We didn't see them all, but here is a taste of those we did visit:
Jamaâ El Fna Square is the centre of the old city. On his first visit to Morocco , 30+ years ago, Juergen drove right into this square. You can't do that today, and nor would you want to. It is constantly bustling with activity, day and night. When exploring the souks of Marrakesh, it is a place you will return to – often. In the evening the square is alive with all types of activity and entertainment, including the famous snake charmers. Its significance as the nerve centre of Marrakesh was recognised is 2008 when it was inscribed on the Representative List of the Intangible Cultural Heritage of Humanity, by UNESCO . So it is listed twice!
Our highly recommended guidebook for people who are looking for valuable information about Morocco: the DK Eyewitness Travel Guide Morocco [new edition: 2019]! This book is for travellers who are more interested in the sights than recommendations for restaurants or hotels.
While the Jamaâ El Fna Square is the heart of the Medina of Marrakesh, the Koutoubia Mosque is probably its best known symbol; or indeed of the whole city, both old and new. Its spectacular minaret is a beautiful example of Islamic architecture. With a height of 77m, this unique landmark is usually in view wherever you are.
The WHC listing makes specific mention of The Kasbah. If you enter the Kasbah through Bab Agnaou, one of the city's beautiful gates, you will immediately arrive at the Kasbah Mosque. It's not possible for non-Muslims to enter the mosque, but you can see quite a lot of the structure through open doorways. Although it's difficult, try not to stare with your mouth open!
Next door are the incredible Saâdian Tombs. There was quite a line when we went to visit them because the view of the Hall of the 12 Columns, the main mausoleum, is limited to 2-4 people at a time – but the wait was worth it (large photo in the row of 4 below).
The King's Palace and gardens are also found in the Kasbah. You can wander around in the outside gardens and see the walls and gates that enclose the palace, but there is no access to the inside. And don't take photos of any guard post – unless you ask first!
A highlight of our visit to the Medina of Marrakesh was the Dar Si Said Palace – now housing the National Museum of Weaving and Carpets. The architecture and decoration of this building must be seen to be believed. The carpets are quite interesting too – but the building is the real sight to see.
3. Medina of Essaouira
The harbour of Essaouira (or formerly Mogador) is protected by the Island of Mogador. This has long since earned it the reputation of being one of the safest places for ships to anchor along the Moroccan coast. Hence, it has been populated from prehistoric times through Phoenicians, Romans, Berbers, Portuguese, French, and Arabs. At one time, it was called the Port of Timbuktu, because the goods coming by caravan through the Sahara, were shipped from here to Europe.
Around 1760, Mohammed III decided to build a port and a city on the site. He brought in Théodore Cornut, a French military architect. This fortified city and port is the World Heritage site you can visit today.
While other, older medinas in Morocco are veritable rabbit warrens, the Medina of Essaouira is planned. It has several main streets, which map out a grid pattern, with the smaller alleys that branch-off still forming a bit of a labyrinth, often culminating in dead-end streets. Other than the limited possibility of losing yourself, it has all the same characteristics of other medinas we've visited: the decorative aspects of the architecture, the colourful displays in the shops of its souk, and the bustle of the locals going about their business.
Our suggestions:
wander the narrow streets, which make up the souk
climb up the ramparts for a great view of both the medina and the port
visit the port for the activity and colour, and take advantage of the fresh fish stalls
If you have more time in the area, find your way to the small village of Diabet to the south. It is the town where Jimi Hendrix famously spent some time. Nearby you will find Dar Soltane Mahdounia, the ruins of a palace, partly covered with sand. Some say it was the inspiration for the Hendrix song: Castles in the Sand.
4. Ksar of Ait-Ben-Haddou
Do we want to visit a site just because it has been used as a set for movies or TV series? Not usually.
But after diligently seeking out the Berber Granaries of Morocco , which we think should be listed by UNESCO, we couldn't miss this world heritage site that is so closely related to them. Aït Benhaddou is a ksar (Arabic) or ighrem (Berber) – a fortified village of adobe houses.
This structure of mud and rock needs fairly constant attention to survive. Unlike many of the granaries, which have fallen into ruin, this site survives because of its world heritage status, with a clear management plan , and also because of its fame from appearing in so many movies.
So, while we weren't searching for a movie set as such, we are grateful that the industry plays some part in keeping this valuable heritage safe. Any place connected to the popular 'Game of Thrones'is sure to draw attention!
Several families still live in the fortified village, despite there being no electricity or running water. You can visit their homes for a few Dirham, and see how they live – still much the same as their ancestors, 3-400 years ago.
Take some time to wander this site, from bottom to top and down again; along narrow, zig-zag alleys and up uneven stairs. At the very top you will find the agadir, which appears to no longer be in use. It's quite a climb, but really worth it for the views out over Ksar Aït Benhaddou, the river, and the 'new' village on the other side. And, in the distance, the Atlas Mountains.
5. Historic City of Meknes
Our original plan was to spend time really exploring the Meknes. Unfortunately, an accident with our mobile home meant that we were mostly occupied with other matters. However, in between we did manage to spend a little time in the historic city of Meknes.
The first things that will catch your attention are the ornately carved and decorated gates near the entrance to the Medina. Bab Mansour is claimed to be 'the most beautiful gate in Morocco'. Just next to it you will find the smaller, but also impressive, Bab Jema en Nouar.
When we finally had a little time to visit the old city, it was Friday afternoon and the souk was fairly deserted. This had the advantage that we were not dodging vehicles as well as pedestrians in the narrow alleys. It also meant that the details of the architecture were easier to see and to photograph.
Although our mood affected our enthusiasm, we were delighted to happen upon the Bou Inania Madrasa or Koran School, and to find it open on a Friday afternoon. It went some way to soothe our disappointment at not being able to visit the Koran School in Marrakech because it was under renovation. For being the only site of interest that we saw in Meknes, it was really special. The detailed ornamentation is spectacular. The bathrooms, and accommodation rooms were interesting, and you can climb to the rooftop for a view of the medina from above. The Grand Mosque is next door and you get an excellent view of its green-tiled minaret.
There is so much more we wanted to see in the Historical City of Meknes – maybe another time!
6. Archaeological Site of Volubilis
We could have spent our weekend in Meknes, thoroughly exploring that city, but we felt the need to move. Nothing would progress with our vehicle over the weekend and the Roman site of Volubiliswas just a short drive out of the city.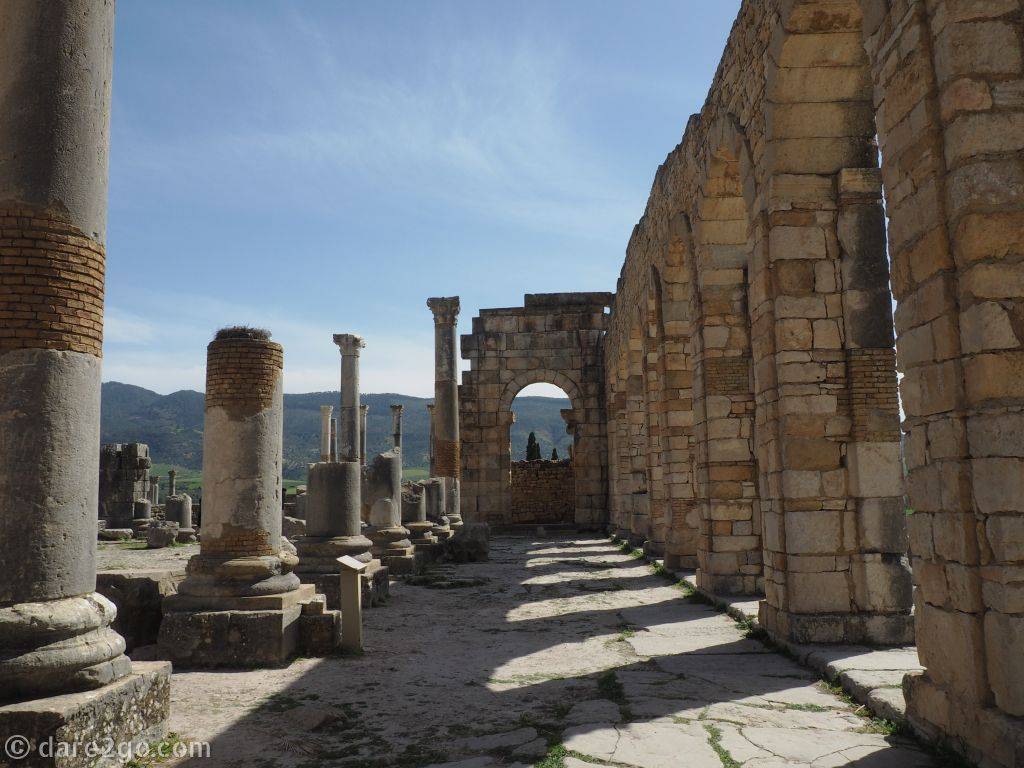 And what an amazing site this turned out to be. Volubilis has the most extensive Roman city remains that we have ever seen, covering 42 hectares and surrounded by 2.6Km of walls. As well as the impressive Triumphal Arch and Basilica, there are remains of villas to be seen with many almost complete floor mosaics, a mill for pressing olive oil, public baths and an aqueduct.
This is certainly a worthy World Heritage site and we recommend it to anyone with an interest in the Roman Empire.
UNESCO World Heritage Sites of Morocco we didn't see
7. Medina of Fez
We may have made it to Fez, if we didn't have to drive to Casablanca instead!
This is some of what you'll find in the Medina of Fez, according to the UNESCO World Heritage website:
founded in the 9th century
home of the oldest university in the world
replaced Marrakech as the capital in 13th-14thcenturies
still holds the status as the country's cultural and spiritual centre
For a post with great photos and places to visit in Fez, check out Sam .
8. Medina of Tétouan
We never planned to visit Tétouan (formerly known as Titawin). It's off the normal routes to everywhere else in Morocco. But the more we read about it, the more interesting it becomes. Should we decide to make a return trip to Northern Africa, we would make sure we go there.
The old city we could visit today is largely the result of forced migration from Andalusia in Spain. After the reconquest by the Christians, first the Jews were expelled, and then the Moors. Many settled in Northern Morocco, and Tétouan in particular. Hence, its art and architecture has an Andalusian influence.
When seeking unusual or out of the way places to visit, we often turn to Atlas Obscura – it says that Tétouan gives you the opportunity to walk through six centuries of history in one day .
9. Rabat, Modern Capital and Historic City: a Shared Heritage
This particular World Heritage site of Morocco was always off our radar. The big cities are no place to navigate with our Bertita, as was confirmed when we made our unplanned visit to Casablanca to eventually get her repaired.
Having said that, Rabat sounds like a very interesting place to visit. Its outstanding value is affirmed based on its 20th century design of a modern capital, and how it has been integrated with its historic sites.
Maybe we should have planned to visit Rabat as 'Backpacking like a Boss' did, in their own van!
Potential Moroccan World Heritage Sites
As well as these 9 listed World Heritage sites of Morocco, there are 13 more awaiting approval .

So, when you look at the World Heritage sites, as an inspiration for places to see in any country, don't forget the tentative lists. Remember, these sites will probably not be under threat from over-tourism yet, so you could enjoy them in more peace and quiet.
Intangible Cultural Heritage of Morocco
The first time we learned of UNESCO's Intangible Cultural Heritage list was in Ecuador when we experienced the Corpus Christi Festival held in Pujili .
The term refers to cultural heritage, which goes beyond physical objects; for example, oral traditions, performing arts, social practices, rituals, festive events, knowledge and practices concerning nature and the universe or the knowledge and skills to produce traditional crafts. [read more ]
Morocco has 7 elements Inscribed , including the Jamaâ El Fna Square in Marrakech, and more nominations awaiting approval.
If you want to get off the main tourist trails in Morocco, these UNESCO Heritage Lists could just be the place to start.
Conclusion
Don't throw away your guide books, but if you're looking for inspirational places to visit on your next trip, check out the UNESCO websites for World Heritage and Intangible Cultural Heritage sites.
As you can see from the variety and quality of the World Heritage sites of Morocco, you will rarely be disappointed.